2020 So Far..."Year of the Rain Check"
We are in the beginning of the 2nd half of 2020. Needless to say, the first half was mostly the unexpected. While much was similar, each of us have unique stories. I have asked Bruce and Scott as part of the leadership of the Starner Group, to reflect on their experiences this year. This week, we will hear from Scott Weingarden. Next week, Bruce will share his thoughts.
Without further ado, I will turn this Musing over to Mr. Weingarden.
The past six months have been truly unprecedented. Events we never imagined have occurred with frequency; both in our daily lives and in the financial markets. The world's greatest screenwriters could never have drafted a script to cover half of what we have experienced so far this year.
2020 started out with an optimistic tone. The US economy was continuing its longest economic expansion ever. The markets were coming off a good year.
I attended two industry/company conferences in late February/early March before the virus truly hit the US shores. The first was in Las Vegas and coincidentally, coincided with the day the markets began their steep decline. The hotel was packed with several conferences and Vegas seemed as busy as ever. The second was in New Orleans. By then, we had stopped shaking hands or greeting others with a hug. However, the hotel was packed with three conferences and the streets of New Orleans were pretty crowded. I flew home on Friday March 6th - not realizing at the time that was the last flight I would take for who knows how long.
The following week was the proverbial "shot heard round the world" as the NBA shut down abruptly one Wednesday night. By the end of that week, the NCAA had canceled March Madness and the PGA tour shut-down. Simultaneously, the markets were experiencing unprecedented events during those first three weeks of March. Several wide swings, some over 1000 points/day, up and down, led to many long days on the phone speaking to clients ensuring they had ample cash reserves and advising them to stay the course and remember their long-term financial plans. The conversations included stimulus efforts by the Federal Reserve and Congress to provide a bridge to help people and the economy get to the other side of the virus outbreak.
Before COVID-19, 2020 was poised to be a special, extra fun year for me as I turn 50 this year in September. I had made and was making plans for many special trips to celebrate this milestone (more details on this to follow later this year). In fact, my wife began to refer to this as the "Year of 50." That became the mantra in our house for our willingness to purchase something or agree to participate in some trip/activity.
"Year of the Rain Check" is what I started calling 2020 when we were forced to cancel our annual spring break ski trip in mid-March. Thankfully, the trip wasn't until mid-March, otherwise we may have been caught up in the mini-virus outbreak that hit the Aspen/Snowmass area in early March.
We have also had to take rain checks on several family gatherings/occasions the past few months. We typically host the 1st night of Passover at my house, entertaining about 40 guests. This year, we conducted our 1st Zoom Seder. More recently, we were forced to celebrate Mother's Day and my mother's birthday via Zoom, adhering to proper safety precautions.
As Margaret wrote back in April, I was the last holdout working in the office. At the company's request, I began working from home starting the day after Easter and remained at home for 9 weeks. Working at home had pros and cons. The pros: a short 4 step commute to and from work from my bed to the desk in my bedroom that became my makeshift office; wearing shorts and a t-shirt to work every day; eating lunch with my wife and kids many days. The cons: we have below average internet speed in my house; I missed the 2 large monitors I have in my real office.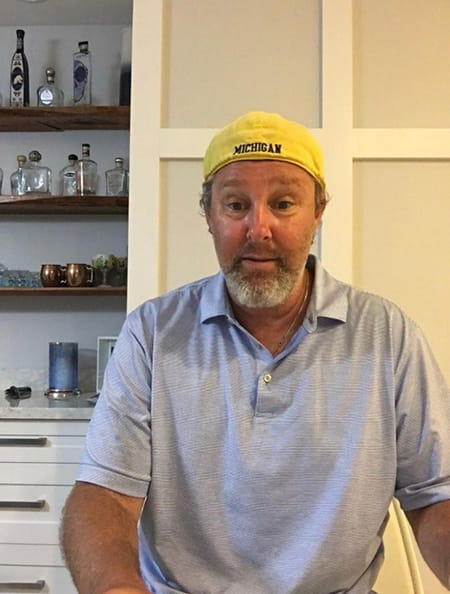 Scott while sheltering in place.....he has since shaved!
I returned to the office on June 15th, as the firm began to open up on a voluntary basis with 20% capacity. For now, I am the only Starner Group team member in the office. I will admit that working alone all day is strange, but at least I can easily socially distance!
I want to echo what Margaret said a few months ago; our entire staff has been fantastic working from home and keeping the practice running pretty much close to normal. I applaud their efforts given the unusual circumstances they have all been faced with and look forward to a time when we are all back working together in person.
Of course, work isn't the only facet of life disrupted these past few months. The school year didn't exactly end as planned. My son, Dylan, was forced to leave the fun of college life in Ann Arbor on St. Patrick's Day, six weeks earlier than planned. He completed the semester from the comfort of our house. Likewise, Jesse's final 2+ months of 11th grade were completed online. Taking classes online did allow the boys to sleep late every day, which they thoroughly enjoyed.
While my boys are sometimes frustrated with the restrictions placed on them, they have been pretty good about socially distancing and taking other precautions. They have also been creative as to how they spend their time. In addition to typical teenager activities such as playing Xbox until all hours of the night, Dylan has tried his hand as a Postmates driver to earn some income since his summer internship was canceled. He is also participating in a financial planning virtual externship provided by the Financial Planning Association.
Right before the world shut down Jesse decided he wanted to start playing golf. Of course, I was thrilled. In fact, I won't ever forget the first full round of golf Jesse and I played together in late February…the Sunday that Italy reported its first few hundred cases, which sparked the outbreak in Europe. Since the world reopened, Jesse has been taking lessons weekly and Jesse, Dylan and I played golf together on Father's Day, which was a real treat.
Since March, we have been abiding by the rules and not allowing any friends inside our house. In the early months of the shutdown, we happily hosted a friend or two (socially distanced) on our patio, given the weather was just gorgeous. However, as we entered summer, this hasn't been as enjoyable as the heat index regularly registers over 100. And don't get me started about the mosquitoes! So, we have improvised and have starting holding "in pool happy hours" with a friend or two over the past few weeks to combat the heat and the bugs. My wife's direction to our friends is to come prepared with your own drinks and bathing suits!! So far, this has worked out pretty well.
Seeing as how the world has dramatically changed these past few months, who knows what the next 3-4 months will bring us. Here's hoping it brings positive news on the vaccine front and a gradual return to some semblance of normalcy.
Look forward to catching up in person sometime!