Chinese New Year
Tonight in Chinese communities around the world, families will begin the celebration of the Chinese Lunar New Year.
New Year, or the "Spring Festival" as it is known in China, is the longest and most important Chinese Holiday.
On Feb 5th, we enter the Year of the Brown Earth Pig, the last year of the natural 12 year cycle. The Pig is the twelfth of all zodiac animals. According to one myth, the Jade Emperor said the Zodiac order would be decided by the order in which each symbol arrived to his party. Pig was late because he overslept. Another story says that a wolf destroyed his house. He had to rebuild his home before attending the party and hence arrived in twelfth place.
For those who haven't read my New Years' Musings in the past, a quick refresher:
The Chinese zodiac is made up of 12 different signs (all animals). In addition to the 12 signs, the calendar also includes 5 elements (earth, metal, water, wood, and fire) which have a strengthening or moderating influence upon the signs. Hence, in total, the Chinese calendar goes in a 60 year cycle (12 signs multiplied by the 5 elements). This year, the place in the calendar and zodiac makes 2019 the year of the Brown Earth Pig.
If you have read my past year Musings, you know an important part of welcoming the New Year is to prepare for good luck and ward off bad luck. Today is the eve of the Chinese New Year....still an opportunity to make your luck!
Celebrate with RED...wear red clothing, write poems on red paper and give children money in red envelopes. Why red? In China, red symbolizes fire which, according to legend, drives away bad luck. (The Starner Group's conference room is a lovely red with red candies for all who visit).
Clean your house and yourself today. Do all sweeping/dusting or hair washing before New Year's Day as there is fear of sweeping or washing away your good luck for the New Year.
Pay off your debts before the New Year!
Do not lend or cry on the New Year...as it is thought that anyone who lends or cries on the New Year will be lending or crying all year round. (this is how you keep complainers and children quiet)
Do not cut on New Year Day as you might cut away your good fortune
Welcome the DRAGON - the loud cymbals and drumming that comes along with the dragons are thought to chase away evil spirits as well.
Use fireworks galore - In the old days, bamboo was set on fire, the crackling flames are meant to frighten the evil spirits. Modern day fireworks have taken the place of bamboo but are still thought to do the same thing.
Let's first review some Past Pig Years:
2007 Fire Pig Year
Apple introduces IPhone
Tesla, world most efficient electric car, introduced at car shows...full production in 2008
Nancy Pelosi elected as first female Speaker of US Congress
Murdock buys Dow Jones & Company, which includes Wall St. Journal
Housing bubbles burst...causing increasing number of foreclosures and then great recession
Dow Jones Average peaked Oct 9, 2007 at 14,164.5 and S&P at 1565.15...not to fully recover until 2013.
US Inflation - 2.85%
Average Cost of gas - $2.80/gal
Postage stamp 41 cents
Price of gold $836.5/ounce
1995 Wood Pig Year
Ebay started the online auction and shopping website, where people buy and sell goods and services worldwide.
World Trade Organization (WTO) begins and replaces GATT (General Agreement on Tariffs and Trade).
Israeli Prime Minister, Yitzhak Rabin, assassinated
OJ Simpson found innocent
Car bomb devastates Oklahoma City Federal Building.
A magnitude 7.3 earthquake occurs near Kobe, Japan, killing 6433 people
US inflation rate 2.81%
Dow Jones Average ends year 5117
Average Cost of gas $1.09/gal
Postage stamps 32 cents
Gold closes at $386.70 / ounce
1983 Water Pig Year
First mobile phones introduced to public by Motorola
Introduction of Microsoft Word, most popular word processing software
Introduction of Apple Mac Computer
Opening of Tokyo Disneyland
Space Shuttle Challenger launched with Sally Ride, first US woman in space. Roger and I were at the launch!
US invades Grenada
Margaret Thatcher wins landslide victory in UK
US Inflation rate 3.22%
Dow Jones Average closed year at 1258
US interest rates 11%
Average Cost of gas - $1.25/gal
Postage stamp 20 cents
Gold closes at $381.5/ounce
1971 Metal Pig Year
Intel releases the world's first microprocessor
Henry Kissinger secretly visits China
200,000 anti-Vietnam war protesters march in Washington, DC
Nixon removes US dollar off gold standard in August...Gold $38/ounce
Aswan Dam completed
Charles Manson receives death penalty
NPR broadcasts for first time
Walt Disney World resort opens in Florida
Voting age in US lowered to 18 with 26th Amendment US Inflation rate - 4.3%
Dow Jones Average closed year at 890
Average Cost of gas - 40 cents/gal
Postage stamp 8 cents
Now for 2019 Earth Pig Year
People born with the Pig sign are pure of heart. Pigs are considerate, responsible, independent, and optimistic. They always show generosity, mercy, and willingness to endure other people's mistakes; which help them gain harmonious interpersonal relationships. Unfortunately, these pure hearts also mean that sometimes Pigs are easily cheated in daily life. Also, Pigs are sometimes known to be lazy and unwilling to take action to improve their lives.
What to Expect in this Earth Pig Year
In Chinese culture, the Pig is the symbol of the prosperity and good fortune of the family. The chubby faces and big ears are signs of fortune as well
According to the Chinese astrology, "2019 is a great year to make money, and a good year to invest! 2019 is going to be full of joy; a year of friendship and love for all the zodiac signs; an auspicious year because the Pig attracts success in all the spheres of life."
This is the time when family and friends come together to support each other and to look back on experiences...good and bad of the past 12 years. Celebrate with food, drink, and laughter.
Pig Years are festive...so don't snooze too much after all the partying. Those who party until they fall asleep could potentially lose out.
The Earth Pig years are also the more spiritual years - you'll be more connected to the universe.
People will tend to over-indulge this year...likely to overspend, overeat, play too much - not good for your health.
Given the over-indulgence, the Earth Pig year is a good time to learn meditation, i.e. yoga, tai-chi, painting. Through these activities, we learn more about ourselves and remove blocks to achieving personal goals.
2019 is a good year to "declutter" the house, complete projects, get business off the ground and write that book.
This is a time to take prudent, well thought out actions rather than high-risk action. Plan for the long term...what is your vision for next 12 years.
Summary - Don't be too Piggy -Have fun, celebrate life with an eye on your bigger goals and where you want to be.
Suggestion: Consult with the Starner Group!
A Sneak Peek of What Year 2019 Will be Like for You
Rat - A year full of happiness and prosperity!
Ox - A good year for Ox. A time with good opportunities to make money.
Tiger - Born in a strong and independent zodiac sign, as a general rule, you do what you please. This year through, you will need to learn how to come to terms with others.
Rabbit - An excellent year is waiting for you! A bit less wary than usual, you will easily get close to others and make new friends.
Dragon - For you, the impact of the Pig's calmness will mean a year of reconsiderations.
Snake - This year you'll have to be combative and persuasive
Horse - The year of the Pig 2019 is going to be more auspicious than the Dog Year 2018!
Goat/Sheep - A 2019 year under the mark of chance, when all your ambitions will be fulfilled.
Monkey - A year under the influence of chance!
Rooster - This year you need to actually pay attention to the quality of your relationships with others, if you want to succeed.
Dog - This year count only on your own efforts in order to succeed.
Pig - The year 2019 is yours, right? Start by setting your priorities and then get to work: once you start moving, you will start seeing results.
For more details on your fortune in Earth Pig Year check out :
Chinese Horoscope 2019 - Year of the Earth Pig
Zodiac Chart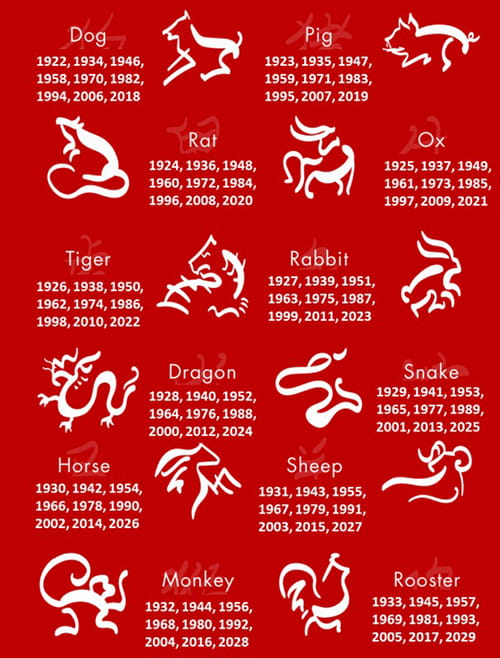 2 Other Points of Interest:
Architecture of Chinatown in USA are not really Chinese architecture ....read how San Francisco Chinatown was designed.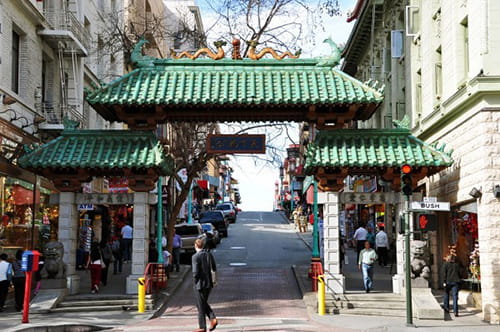 An interesting fact: this gateway to SF Chinatown was designed by Clayton Lee, my brother-in-law
There are no fortune cookies in China...read why they were created for American restaurants.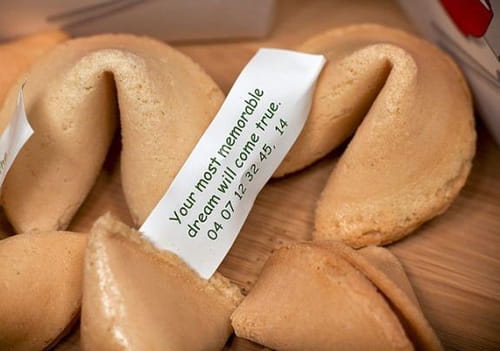 Wishing you good health (Gong Hay) and Prosperity (fat choy) in the Year of the Pig!!!