October Celebrations and Happy Halloween!
The September/October time frame is big for birthdays in the Starner Group. In fact, Scott, Bruce, Daniel, Jessica, Adrian and I have all celebrated over the past two months. For the past few years, we have had a big birthday dinner at Flemings, though sadly a flight cancellation precluded Bruce from joining the 2019 celebration. Afterwards Daniel jetted to London for a weekend celebration.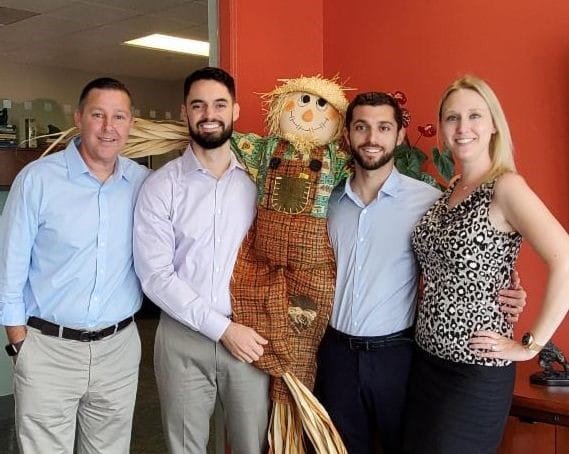 Left to right: Scott, Daniel, Adrian, & Jessica
For my birthday, I always make sure to take a vacation. This year, I did a Danube River cruise with 19 family and friends from my Mississippi days…so a fun reunion time for me. The group included Martin Yan (The TV Chinese Chef) and his family. We attended an amazing Mozart and Johann Strauss concert in Vienna on my birthday…how beautiful is that! The trip ended with us in Munich in time for the end of Oktoberfest. Now, my hubby (Roger) is 87 and of German descent, and he had given up hope that he would ever make it to Oktoberfest, so he was more excited about this trip than I! We stayed at a hotel within walking distance to the celebration and loved watching all the activity…and drinking some good beer! I must confess, Roger and I weren't up to the German's consumption, in fact, we only shared a single beer! Still, we loved the festivities…Oktoberfest is truly an event to be experienced.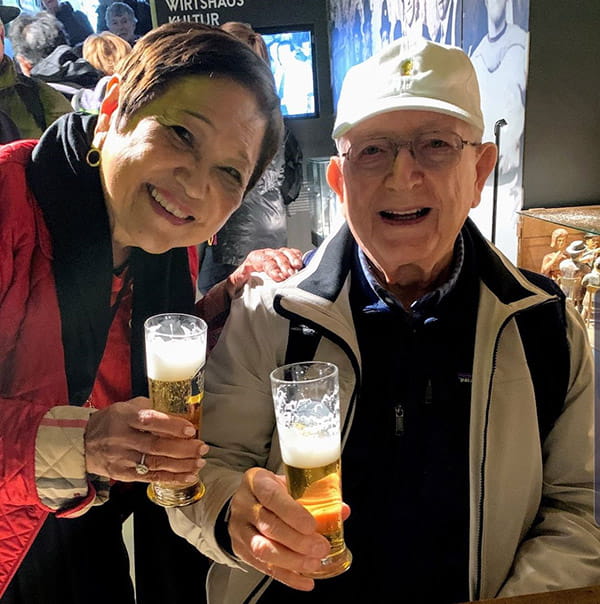 Margaret and Roger enjoying Oktoberfest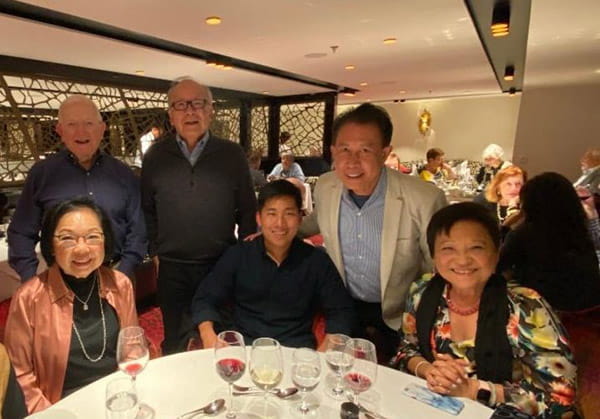 Margaret celebrating with Martin Yan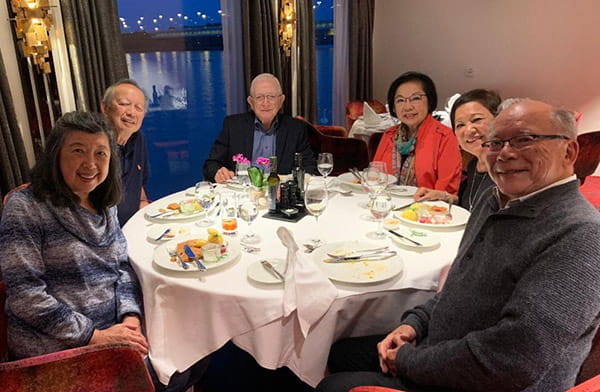 Margaret celebrating with family
Our next October fun fest was going to Columbia University for Parent's/Homecoming weekend to visit with Micaela, my granddaughter (also Bruce's oldest), a sophomore and manager with the Women's basketball team. We attended the basketball team's tailgate party…got to meet all her teammates and coaches on a beautiful autumn day. We were so impressed with these really smart, talented, young women. I did my best to challenge/inspire some to consider being a financial advisor. A fun part of parent's weekend is treating Micaela's friends to good food and getting to know them. I really enjoyed learning their world views and seeing their optimism for the future. They want to travel, see the world, make a difference…and are willing to work hard to do so. If anyone is interested, they are eager for good internships!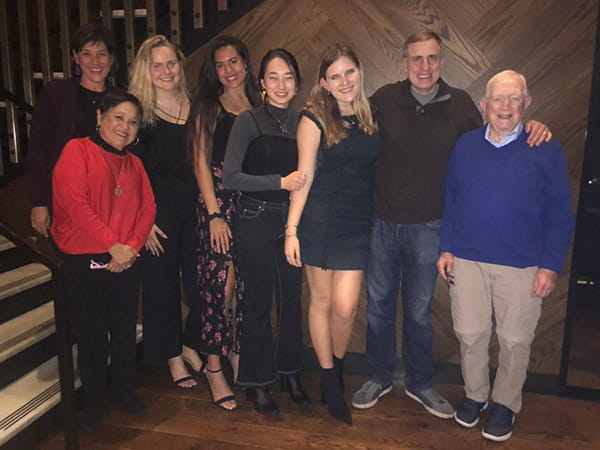 Dinner with Micaela's college friends
Our last trip in October was going to Dallas to celebrate my son-in-law's (Kenji) 50th and our oldest grandson's (Kailee) 18th birthday.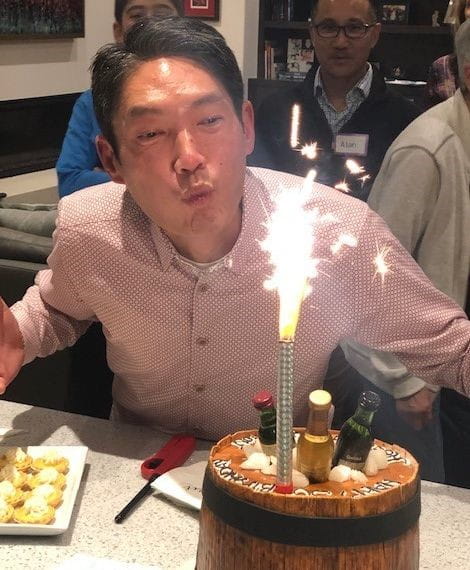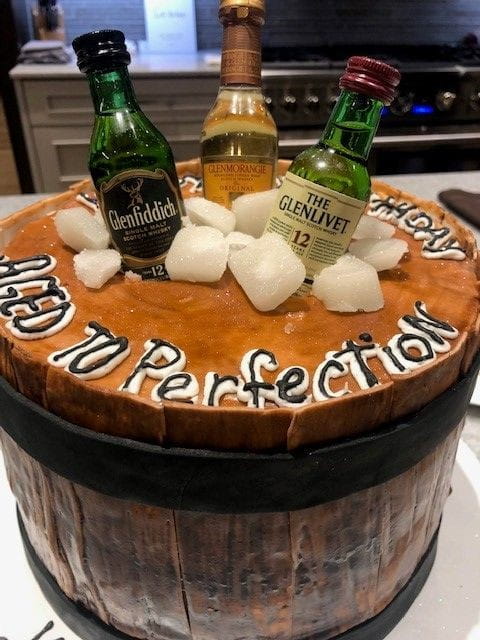 Kenji Celebrating with his many Scotch bottles
Not to be forgotten is grandson, Cole Cacho-Negrete, who also has an October birthday and turned 15. Probably the big news with Cole is that he had his first fight at 15….and won…against a kid who was trying to bully him! We all have mixed emotions on this subject…proud that he didn't get beat up by a much bigger kid, but also reminding him that violence is rarely the answer. He promises that this will be his first and last fight, especially because now people know he will stand up to a bully. Of course, the school doesn't know…so please keep this a secret.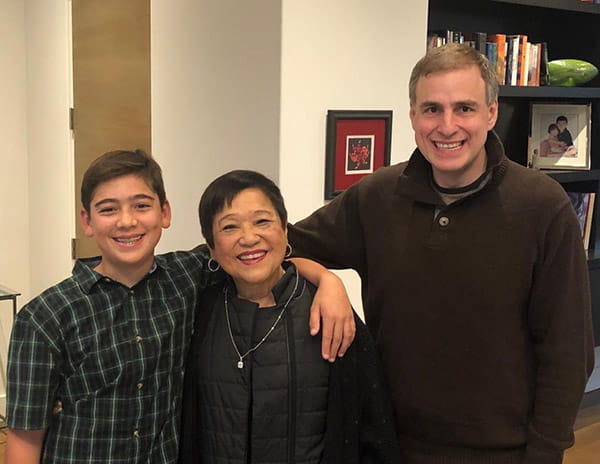 Cole with Margaret and Bruce
In the midst of all these birthday celebrations and travels, one of my closest friends from college, Shelly Breiner, passed away. Shelly, a geophysicist, was larger than life… his passing is a big loss and a shock to all who knew him. He had millions of jokes and funny stories about every topic on Earth. He also had a new invention every minute. He was a brilliant scientist who developed one of the early magnetometers for detecting earthquakes. He even had one at his Portola Valley, CA home and was always showing us facts about the latest earth's movements. In fact, after the assassination of Robert Kennedy, he was asked by the White House to develop the first gun detector for the White House. That same technology is now used as a security device at airports globally. Thanks for all the laughs and love Shelly. You will be missed. Please click below for the New York Times Article.
Sheldon Breiner, 82, Dies;
Used Magnetism for Explorations
On that somewhat somber note, I want to wish all of you a Happy Halloween. I hope that you get nothing but Treats this Halloween!
My treat is being named to the Barron's Hall of Fame!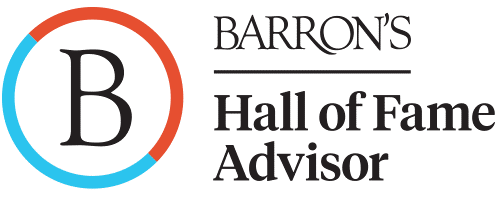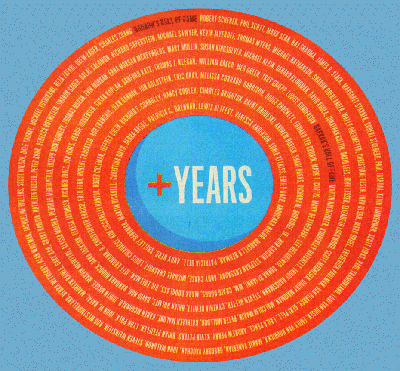 Barron's is a registered trademark of Dow Jones & Company, L.P. All rights reserved. "Barron's Hall of Fame" is an award honoring a group of advisors who exemplify long-term success and commitment to their clients. Each member of the Hall of Fame has appeared in 10 or more of Barron's annual Top 100 Advisor rankings, and their long-looking commitment to excellence is a hopeful example for the industry to follow. The Top 100 Advisor rankings are based on data provided by individual advisors and their firms and include qualitative and quantitative criteria. Data points that relate to quality of practice include professionals with a minimum of 7 years financial services experience, acceptable compliance records (no criminal U4 issues), client retention reports, charitable and philanthropic work, quality of practice, designations held, offering services beyond investments offered including estates and trusts, and more. Financial Advisors are quantitatively rated based on varying types of revenues produced and assets under management by the financial professional, with weightings associated for each. Investment performance is not an explicit component because not all advisors have audited results and because performance figures often are influenced more by clients' risk tolerance than by an advisor's investment picking abilities. The ranking may not be representative of any one client's experience, is not an endorsement, and is not indicative of advisor's future performance. Neither Raymond James nor any of its Financial Advisors pay a fee in exchange for this award/rating. Barron's is not affiliated with Raymond James.