College Life Fall Semester 2020 while living through COVID-19
Dear Margaret,
College students have been back in session for a few months now…and with COVID, the experiences were not normal for sure. I decided to interview 3 college students to get a glimpse of how they were managing this Fall semester. The students I chose are juniors, so they are fortunate to already have had 2 years of college experience and college friends. Hopefully, they will have the opportunity of a more normal college life again next year as seniors. The three interviewees are:
Allie Lutz, who was our intern until COVID and attends University of Miami
Dylan Weingarden, Scott's son, and attends University of Michigan
Micaela Cacho-Negrete, my granddaughter and Bruce's daughter. Columbia classes are all virtual, so Micaela chose to do a "gap" year.
Let's begin with Allie at University of Miami...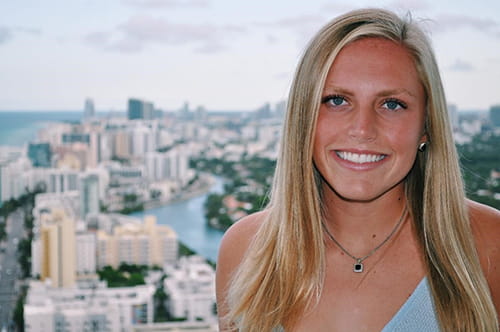 Q; Allie, how is UM handling going to classes?
Allie: UM has a hybrid system. I have a combination of online and on campus classroom classes. The University has built "tents on lawn" classrooms that are fully air-conditioned and ventilated to create more spacing in all the classrooms. My classrooms all have safe-distance spacing and we each have assigned seating for indoor classes. The professors all lecture with a plexi-glass divider in front of them. We have to wear masks anytime we are on campus.
Q: What has your school done to prevent the spread of COVID, and in turn has allowed the school to remain open?
Allie: UM has implemented three specific procedures/tools to manage COVID risk:
Mandatory bi-weekly COVID tests for all students (living on campus and off campus)
Daily symptom checker: an app on our phone that we must use every day that we plan to be on campus. The app asks us questions regarding if we are feeling healthy, if we have been in contact with anyone who has tested positive, etc.
We must use our "Cane Cards" (student IDs) to swipe into each building on campus and each classroom. This way, if you have not completed your symptom checker or gotten your COVID test then the building will not unlock for you.
Q: What do you miss most about regular college pre-pandemic?
Allie: Campus isn't as lively as it usually is. In past years, people hang out by the student center or in the different restaurants and food courts or outside, but now no one is around. All seating conducive to relaxing and socializing on campus (benches, chairs) have been removed.
Generally, I just miss hanging out on campus. In previous semesters I would sit at a table outside on campus and do homework or hang out with my friends in between classes. Now, I really just go to campus specifically for my one in-person class and then drive right home.
I also really miss studying in the library. I study best in the library rather than in my apartment. With COVID, you have to make a reservation for a seat in the library and there are many restrictions within the library. It seems to be more of a hassle to go to the library now so I find myself going to study rooms in my apartment building or just at my desk in my room. Also, we have to wear masks while in the library – this is definitely necessary but gets uncomfortable after a bit and distracting.
Q: How has technology impacted your learning?
Allie: I am very thankful to be able to continue school online, but the process has definitely taken some time to get used to. Honestly, some of my professors are a bit technologically challenged. They are still learning how to effectively teach virtually.
Also, I prefer hand-writing my tests and taking them on paper, so taking exams online in my own room rather than in a classroom environment has not been ideal.
Q: What's something positive from COVID learning?
Allie: I think the only positive thing has been being able to get those few minutes of extra sleep in before quickly logging into my zoom 1 minute before class begins! However, I would trade anything to get back to pre-COVID college!
Oh - one other positive is that all of my classes are recorded. So when I'm studying for an exam, I can go back and re-watch that section of class to be sure I understand or to clarify an idea.
Q: What do you do on the weekends?
Allie: My friends and I like to hang out in one of our apartments and watch the football game or just hang out! We like to keep our circle small though. Luckily, none of us have come down with COVID and I hope to keep it that way.
We also have been going out to dinner a lot more than before COVID. It's a fun thing to have on the calendar! I have enjoyed getting out of my sweatpants and pajamas to dress up! Also, we are definitely fortunate to go to school in Miami. I have been taking full advantage of the warm weather. I am a frequent visitor of my pool and the beach. I am not missing the NJ cooler weather!
Next we will hear from Dylan at Michigan...
Q: Dylan, How's life at Michigan?
DW: Well, my living situation is a lot of fun. I live with 14 other students in a large house. Each of us has a private room with a sitting area. The house has a full kitchen, and gym; plus lunches are delivered from the fraternity meal plan. For dinner, I survive using my limited cooking skills or I go out to eat with some friends.
My housemates and I also spend time at a small park nearby as well. We play soccer and basketball during the week and on weekends. We need to get out of the house and enjoy the weather before winter!
Last year, I roomed with a close friend, but I definitely like the communal living space much better. Even during COVID, I can always find something to do. I rarely go to campus; just occasionally to buy food and essentials. Thankfully, many friends have cars so we do drive often on the weekends.
Also, I must mention that I recently purchased a pet snake. His name is Slime and my Dad is NOT so fond of the purchase! Slime is a ball python, very small right now and not venomous or dangerous in any way.
Q: How are your classes?
DW: All of my classes are online…no in person classes. For the most part, I learn on my own time through pre- recorded lectures and labs. I do have a weekly live discussion/lecture in two classes. Thankfully, every class has office hours with teachers at least once a week, so I am able to interact with professors and ask questions about material. I must admit that I miss daily interaction with students and teachers.
Q: How do you structure your day and learning?
DW:I am still learning how best to create my own schedule and organize myself as well as possible with online lectures. Online learning definitely requires more personal discipline. I do enjoy a more relaxed schedule in terms of timing, however I do my best not to slack off! I mostly do school work throughout the day in my room and then get some time to work out afterwards. My housemates tend to keep the same schedule.
Q: Are you concerned about safety?
DW: I don't worry too much about COVID since we've been pretty conscientious in the house. We have been able to do weekly testing for the virus because one of my housemate's father has a lab and he has provided us with testing material. One person in our fraternity (he lives in the other house) tested positive, but he is now out of quarantine and everyone else is negative.
Q: Any disappointments?
DW: I suppose not having a great social life. Generally, one's first couple of years revolves around the fraternity life. Going into my junior year, I was looking to expand my social circle… going to bars, clubs, etc!! I miss being normal and living a carefree life. I also miss attending sporting events. I feel somewhat "detached" from normal college life. I don't really have the opportunity to meet new people or even get to know my professors or classmates.
Q: Any advantages or changes to your thinking?
DW:I definitely have become more responsible and organized as I mentioned. I also got a job at a Smoothie bar for 2-3 days/week which gives me a different outlet and a way to interact with more people, plus earn some money! We are all trying our best to make the most of the time we have under the circumstances; so I wouldn't say I have too many complaints…I'm still enjoying college life!
Finally, we will hear from Micaela,
who chose with 3 friends to take a Gap year from Columbia.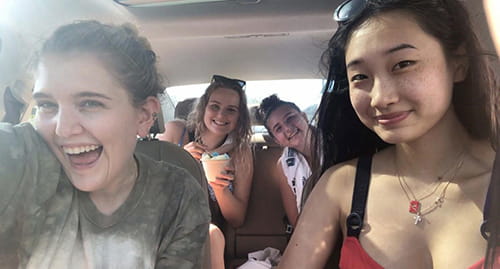 Micaela and the Roomies!
From left to right:
Front: Micaela, Julie
Back: Hannah, Sela
Q: How did you decide to choose having a "gap" year?
MCN: I struggled with my online learning when school abruptly closed in the Spring. I really missed the experience of interacting with my professors and other classmates. I loved going to office hours, club events, and doing volunteer work on campus. Those things were no longer possible once I learned that everything would be online this year. So, I thought about what I could do to still have as much in-person interaction and learning as possible. That answer was to move to a place that's the OPPOSITE of New York, with my three best friends, and to start a brand new job.
The grading for the class in the spring was Pass/Fail. In the Fall, grading went back to usual letter grades. I was concerned about my ability to maintain good grades, and more importantly to learn effectively, in a virtual environment.
Also, I was entering the second half of my college life. I liked the idea of taking a break to reflect upon what I wanted to do and accomplish in my final two years.
Q: Why Hawaii?
MCN: I had spent many Spring breaks in Hawaii with my family. I have many wonderful memories of the fun we had on our vacations. Plus, I always wanted the opportunity to explore the idea of living in Hawaii one day. The gap year is a great test-run!
Q: How did you convince your roommates?
MCN: That was pretty easy. Julie and Hannah were classmates at Columbia and neither had been to Hawaii and they were up for the adventure …so they were a natural fit. Sela was a friend from high school basketball days. While she went to Bowdoin in Maine, we had remained best of friends. Hawaii was great for her -- as she could work out whenever she wanted without worrying about weather. Hannah is doing school virtually, but the rest of us have jobs.
Q: What have you learned from this experience?
MCN: I definitely appreciate my college life a lot more….I miss it a lot! I was very involved with the Women's basketball team; plus I mentor underprivileged children each week. Also, I miss being mentally stimulated by my classes and working closely with my professors…and of course, the fun life that a college campus offers!
Q: What about your work?
MCN: I work for Makai HR, a PEO- Professional Employer Organization, which is an HR-outsourcing firm. Since I don't have a car and want to avoid public transportation, I walk 2 miles to work every morning, which is quite the task in Hawaiian heat. I've really enjoyed working for Makai, as we have so many different kinds of clients. My title is an "HR Support Specialist" -- I'm the customer service rep for the company. I've learned how to take long stories or problems and simplify and condensed for our executives.
In addition, I was given a number of office projects to complete in between calls…most had to do with organizing the office. I have had a lot of fun organizing such a big space.
Q: Any disappointments?
MCN: The job keeps me busy and the company has treated me so well. However, I definitely miss the creativity that went into the organizations I was involved in at school. This has helped me realize that I'm hoping for a job one day that has more creativity involved. I also really miss interacting with new people all the time.
Honolulu is also a lot smaller than I realized -- and especially right now, there's not a ton to do besides go to the beach and the mall. Although I LOVE those things, I also miss how fast paced NYC and LA are. My Columbia roommates and I miss the vibrancy and diversity of NYC and the Columbia campus. But, I do really love how relaxed Honolulu is -- there really is such little stress! And, it's absolutely beautiful.
Q: Was it worth taking a gap year?
MCN: Absolutely! Since college is such a special experience, I really want to use every second I'm there in the best possible way. During this time, I've been able to reflect a ton on what I've done so far and I think that reflection will help me to use my time well when I get back to Columbia. I also think I'm really lucky that I have a year to pursue things I've always wanted to do - moving to Hawaii, spending time with family, and travel (once things become safer!).
Well, that was a long Musing! But, hopefully you all enjoyed learning a bit about how college students today are coping with COVID. I had lots of fun and appreciated the time and candor speaking with each. We look forward to seeing you all in person again one day. Until then, Bruce, Scott, and I are always just a phone call or Zoom away!
Sincerely,
Margaret C. Starner, CFP®
The STARNER GROUP of Raymond James & Associates
Barron's is a registered trademark of Dow Jones & Company, L.P. All rights reserved. "Barron's Hall of Fame" is an award honoring a group of advisors who exemplify long-term success and commitment to their clients. Each member of the Hall of Fame has appeared in 10 or more of Barron's annual Top 100 Advisor rankings, and their long-looking commitment to excellence is a hopeful example for the industry to follow. The Top 100 Advisor rankings are based on data provided by individual advisors and their firms and include qualitative and quantitative criteria. Data points that relate to quality of practice include professionals with a minimum of 7 years financial services experience, acceptable compliance records (no criminal U4 issues), client retention reports, charitable and philanthropic work, quality of practice, designations held, offering services beyond investments offered including estates and trusts, and more. Financial Advisors are quantitatively rated based on varying types of revenues produced and assets under management by the financial professional, with weightings associated for each. Investment performance is not an explicit component because not all advisors have audited results and because performance figures often are influenced more by clients' risk tolerance than by an advisor's investment picking abilities. The ranking may not be representative of any one client's experience, is not an endorsement, and is not indicative of advisor's future performance. Neither Raymond James nor any of its Financial Advisors pay a fee in exchange for this award/rating. Barron's is not affiliated with Raymond James.
The Forbes ranking of Best-In-State Wealth Advisors, developed by SHOOK Research, is based on an algorithm of qualitative criteria, mostly gained through telephone and in-person due diligence interviews, and quantitative data. Those advisors that are considered have a minimum of seven years of experience, and the algorithm weights factors like revenue trends, assets under management, compliance records, industry experience and those that encompass best practices in their practices and approach to working with clients. Portfolio performance is not a criteria due to varying client objectives and lack of audited data. Out of approximately 32,000 nominations, more than 4,000 advisors received the award. This ranking is not indicative of advisor's future performance, is not an endorsement, and may not be representative of individual clients' experience. Neither Raymond James nor any of its Financial Advisors or RIA firms pay a fee in exchange for this award/rating. Raymond James is not affiliated with Forbes or Shook Research, LLC. Please visit https://www.forbes.com/best-in-state-wealth-advisors for more info.
The Forbes ranking of America's Top 1,000 Women Wealth Advisors, developed by SHOOK Research, is based on an algorithm of qualitative and quantitative data, rating thousands of wealth advisors with a minimum of 7 years of experience and weighing factors like revenue trends, AUM, compliance records, industry experience and best practices learned through telephone and in-person interviews. Portfolio performance is not a criteria due to varying client objectives and lack of audited data. Research Summary (as of April 2019): 32,000 nominations were received based on thresholds (9,654 women) and 1,000 won. This ranking is not indicative of advisor's future performance, is not an endorsement, and may not be representative of individual clients' experience. Neither Forbes nor SHOOK receive a fee in exchange for rankings. Raymond James is not affiliated with Forbes or Shook Research, LLC. Please visit https://www.forbes.com/top-women-advisors/#28abc5bd51f4 for more info.
Nominees for the InvestmentNews Diversity & Inclusion Lifetime Achievement Award must currently be working as financial planners, registered representatives or registered investment advisers, or as industry professionals in a role that supports financial advisers. Judges will consider management, team development, achievement and a minimum 15-year commitment to fostering diversity and inclusion. InvestmentNews received about 130 nominations for the Diversity & Inclusions awards and selected 1 individual for the Lifetime Achievement award. The ranking may not be representative of any one client's experience, is not an endorsement, and is not indicative of future performance. Neither Raymond James nor any of its Financial Advisors pay a fee in exchange for this award/rating nor is Raymond James affiliated with InvestmentNews.